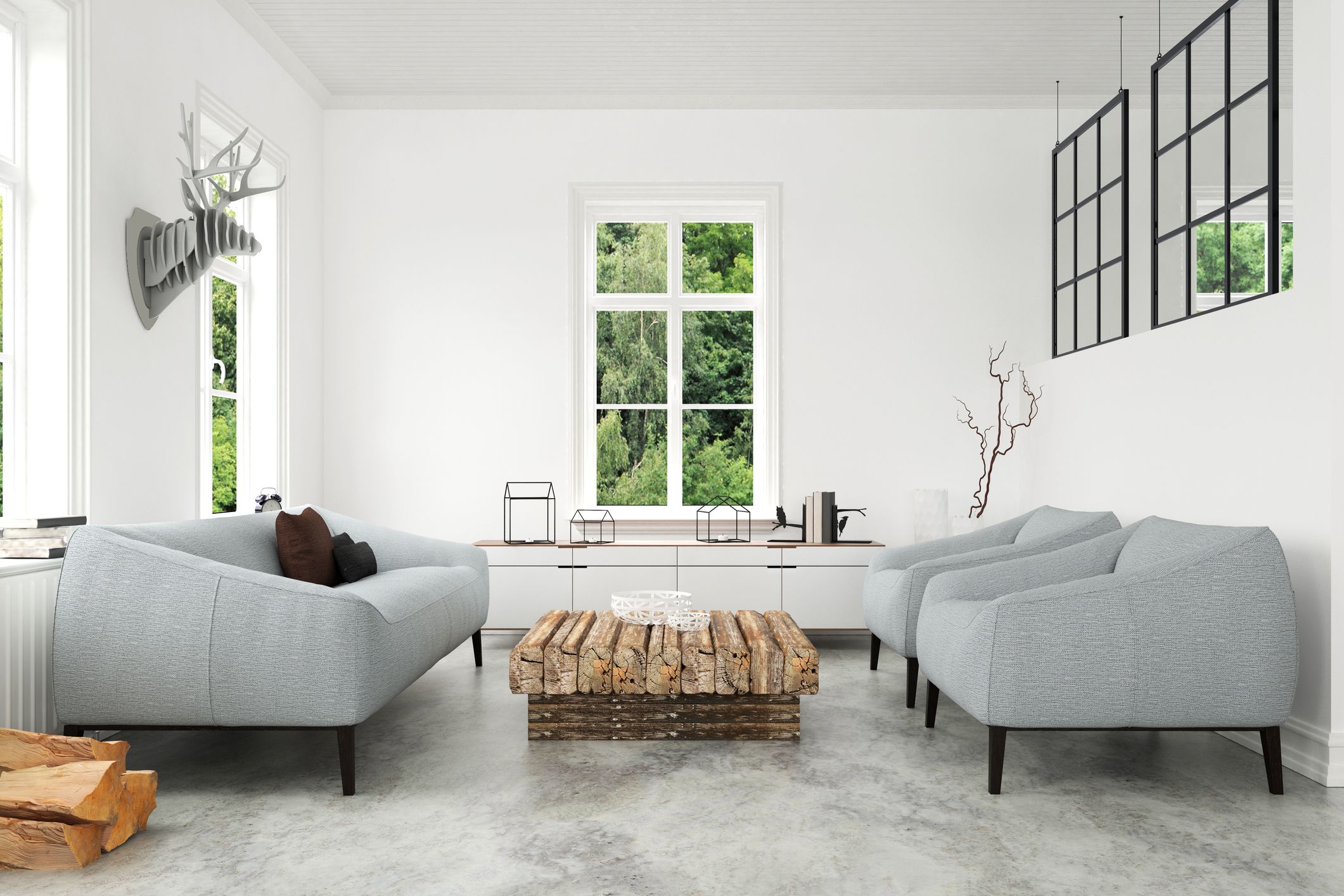 Concrete is the most commonly used construction material across the globe. Concrete floorings come in a wide range of forms, designs, textures and whatnot. The composition of concrete makes it adaptable to different flooring requirements. Read on to know what makes concrete the most popular choice for flooring.
Table of Contents
What Is Concrete?
Essential Aspects of Concrete Flooring

Cost
High Durability
Easy Installation
Density and Porosity
Long-lasting Capability
Variety in Design Options
Exceptionally Versatile
Environment-friendly
Fire Resistance
Thermal Insulation
Acoustic Insulation

Different Types of Finishes for Concrete Floors

Metallic Epoxy
Interior Stained Concrete
Exterior Stained Concrete
Stencilling
Polishing
Quartz Flooring
Overlays
Garage Floor Coatings

Summary
What Is Concrete?
Concrete is a blend of portland cement, aggregates, water and sometimes admixtures. The cement and water mix to form a paste, hardening and bonding the aggregates together. Concrete is often referred to as "man-made rock" owing to its high strength and resilience. So, it is one of the most extensively used construction materials all across the world.
The versatility of concrete makes it a suitable construction material for a wide range of residential, commercial, agricultural and industrial uses. It can be placed and moulded nearly into any shape to reconstruct surface texture.
Essential Aspects of Concrete Flooring
Concrete is the cheapest flooring option you could find as it does not require any extra floor covering. So you can save significant funds by opting for concrete flooring for your home instead of choosing any other flooring material.
Concrete floors are highly resistant and durable to any Physico-chemical effect caused due to rain, frost, atmospheric pollution, etc. They don't get damaged by furniture legs, high heels, pet claws or heavy dropped items and are suitable to withstand extreme conditions.
Concrete floors are easy to install or cast in any location. So, a constructor has to go through less hassle doing your flooring, and so he would charge you less floor installation costs.
Your concrete flooring can be made denser by reducing the water content and optimising the dimensions and packaging of the aggregates. The denser (or less porous) is the concrete, the greater is its durability, and the better is its performance.
A properly maintained sealed concrete floor can last for an indefinite period and very rarely needs replacement. However, it needs to be waxed or sealed every 3 to 9 months to prolong its shine.
Variety in Design Options
Most people have the notion that concrete makes for typical dull, grey utilitarian floors having sharp and bumpy textures. However, things are totally different nowadays. You can get colouring concrete and applying textures, saw cuts, patterns and much more to liven up the traditional substrate and revamp your floors.
If your concrete floor has been there for many years and you want new flooring, you can easily cover the concrete slab with any other flooring material. Concrete is known for its exceptional versatility.
A concrete floor doesn't require any other floor covering. So, no new material is generated, resulting in zero carbon footprint and no depletion of resources.
Unlike wood flooring, which has a high chance of catching fire, concrete floorings are highly resistant to fire. So, they enhance the safety standards of your home.
Concrete floorings have heat-insulating properties, so they help maintain the temperatures of your interiors and keep you comfortable throughout the year.
Concrete also has noise dampening features. Suppose you install concrete flooring on the first floor of your home, so you don't have to worry about any noise entering that floor from the ground floor.
Different Types of Finishes for Concrete Floors
Did you know that the decorative concrete market was valued at a whopping USD 15.43 billion in 2020, and by the year 2028, it is estimated to reach USD 24.92 billion? It's because the compatibility of concrete floors makes them an excellent choice to blend with different types of coatings, polishes and finishes. Here are some popular concrete floor finishes:
The metallic epoxy concrete floors are available in a variety of designs. They can be crafted into contemporary floors or can be sheerly edgy and unique. You can get silver, copper, nickel, aged bronze and several other shimmery designs on these concrete floors.
Interior Stained Concrete
Interior stained concrete floors are preferred by many people for their homes and commercial spaces. These floors seem like prefabricated marbles or tiles, and they are available in satin or gloss with smooth and consistent finishes.
Exterior Stained Concrete
You can apply an exterior stain over your existing concrete and quite affordably revamp your driveway, patio, walkway or courtyard. The floor is then sealed with high-performance and non-yellowing sealers to prolong the longevity of your concrete floor.
Using stencils, you can add appealing yet affordable colour and texture to your indoor concrete surfaces. You can choose from the endless patterns and even use custom stencils.
The premium no-wax, polished concrete floors make for a superior, low-maintenance option for residential and commercial spaces. Concrete polishing gives a floor smooth, high-lustre finish that imitates polished stone yet doesn't require waxing.
Quartz flooring is usually used in commercial spaces for an aesthetically-appealing yet highly functional floor. These floors are extremely resistant to impact and abrasion. They also possess non-slip properties throughout their lifetime. Quartz floors are generally accompanied by an integral cove base so that they can be easily cleaned and maintained. As these floors lack seams, they offer a naturally antimicrobial surface.
Typically used in exterior spaces, overlays have hundreds of types, from faux flagstone and Pebble tech to Kool decked and stamped. You can also install overlays in your basement to give it an underground feel.
Epoxy-based floors are an inexpensive way to enhance the visual appearance of your garage. They help protect your floor from oil stains, grease and tire marks and even add colour and texture to your floor. You can get these heavy-duty floors in a range of colours and further elevate their appearance using colour chips or quartz.
Summary
Concrete has wide applications and uses apart from the flooring. It is used as an integral material in most of the major phases of construction.